A Custom Color Hair Appointment Breakdown From A Hairstylist: Booking, Pricing & Process
Have you ever been scrolling social media and see a hairstylist post a before and after photo of their clients hair and you wonder "how much did that cost? How did they do that?" Well, I'm Meg Ann Lee, a Hairstylist in the Eau Claire area, and this week we are doing a full break down on the process and pricing of hair transformation appointments!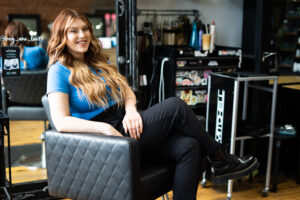 I want to point out I'm using my own pricing and my own work for this blog post. The beauty industry is huge with no "industry standard" on pricing because we all run different businesses with different expenses. Meaning, you can find a stylist in, or out of, your budget at any skill level. Truly, in this city alone, we have stylists charging above $200 per hour for specialty services, all the way down to earning minimum wage for haircuts.
How to book?
You want a huge hair makeover but don't know where to start or how to book.  With any transformation appointment, I like to ask for photos of the client's current hair in natural lighting and 1 - 3 photos of their end goal inspiration.
The number of pictures I receive in bad bathroom lighting or with snapchat filters on it is honestly astonishing.
Don't be that client.
These photos are going to give me an idea of each step I must make to take them from point A to point B. This is also why pricing isn't the same across the board for all clients. A full foil on a brunette and a full foil on a blonde are 100% going to have different end results. This is why if you bring in a picture it's considered a "custom" color over a traditional menu item.
Most stylists will have you fill out a consult form or do an in person consult before booking a larger service. Here is the new client form I'm currently using with the team at Saylon Seven:
The Process
Most of the colors I post on my social media are "custom" transformational colors and not just a traditional menu item.
What does that mean?
An example is you book a "full foil and toner" but what I actually have to do to achieve the look of the inspo photo you bring in is:
a dry trim

a k18 treatment or malibu treatment to create a more balanced canvas

full foil

extra bowl of color for a low light

extra product/bowls because your hair is long and thick

a shadow root

a toner

extra product/bowl of toner for length/thickness

a shine or strengthening treatment

a wet haircut

a blow dry

detailing the haircut dry

a hot tool style
These steps can vary based on the appointment and this is why each appointment is customized.
Pricing
I recently saw a TikTok where a girl was complaining about how her hairstylist's prices are never JUST what is listed on the  menu. The example I gave above is exactly why.
Pricing is different client to client based on THEIR hair, the starting point and their end goal. It will also change based on length and thickness of hair as I broke down above.  You should ALWAYS know the price range before the appointment starts. Your stylist should give you a price range which is a base price and a max price so that you are not shocked at check out.
Remember if you are "adding" anything it's extra, unless your service provider is charging you an hourly rate.
Here is a price break down of some of my recent appointments at the salon: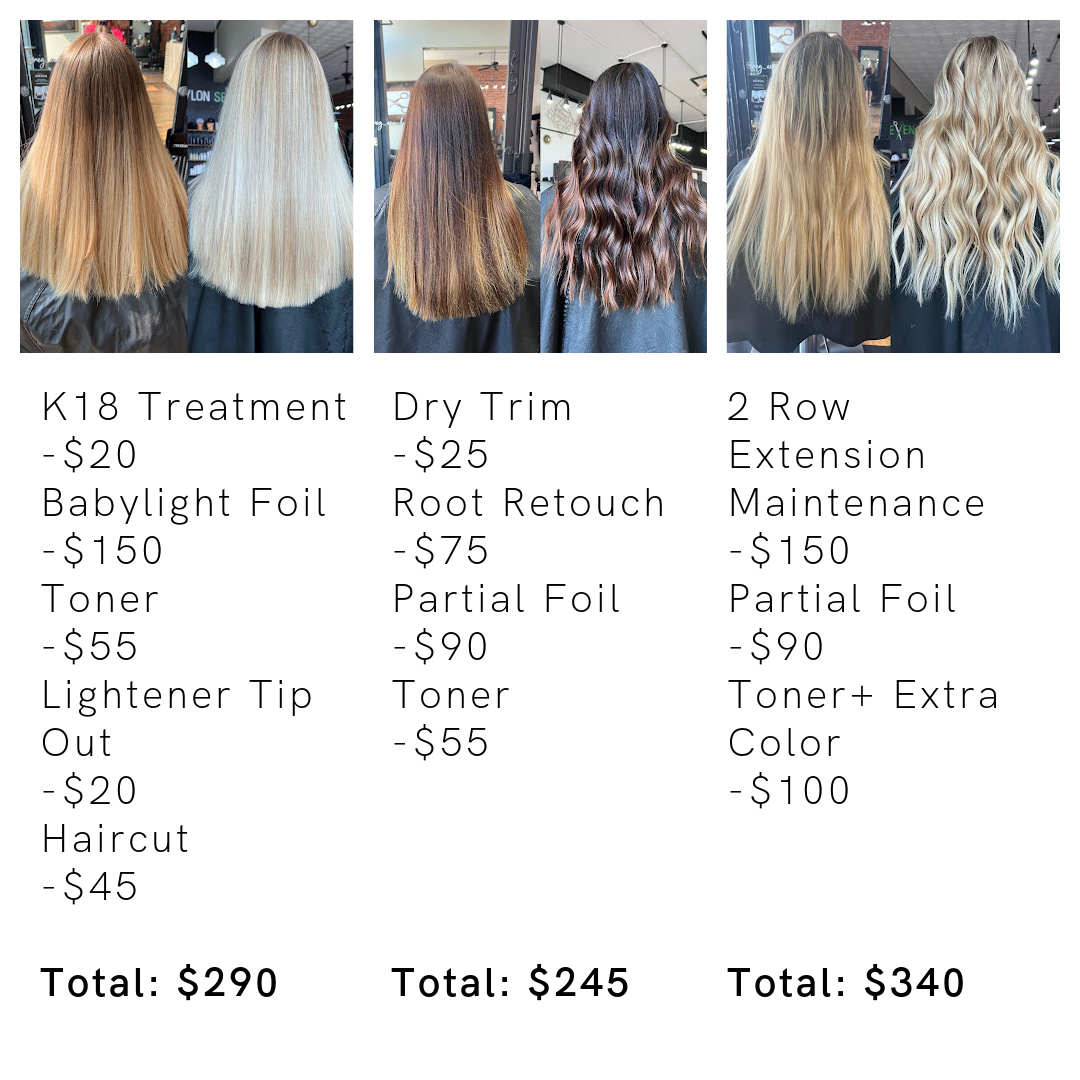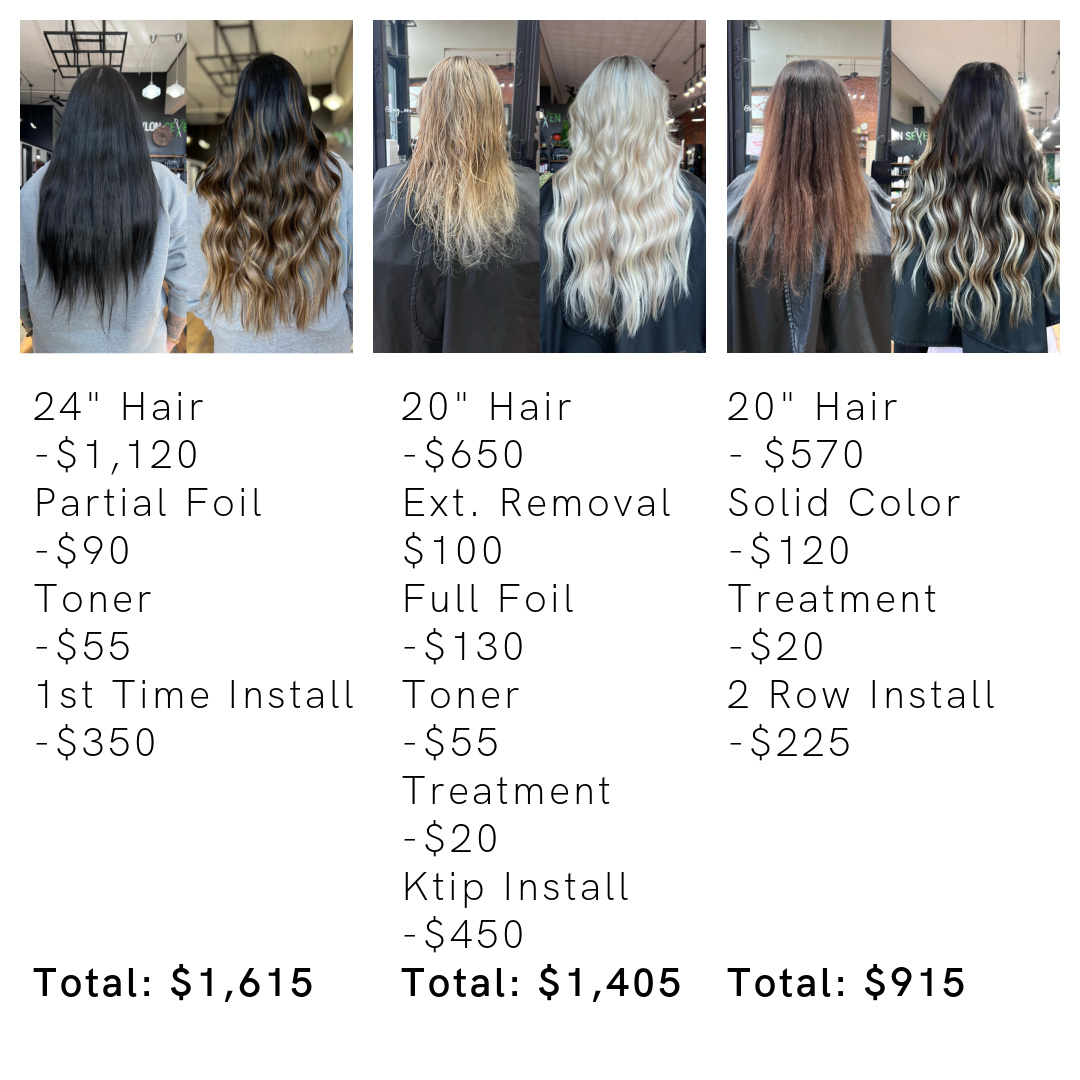 Some of my bigger transformations include hair extensions and this is what really boosts up the price point for the client. Purchasing just the hair itself can be expensive and that price usually is not controlled by your stylist, it's controlled by the retail companies. But come on, someone had to literally GROW this hair, it should not be cheap. Specialty or Luxury services also shouldn't be cheap.
I hope this helped you understand the process and pricing behind some of these huge transformations you see online and whether or not they are a right fit for you <3