Meg Ann Lee: How to Have a Five Minute Makeup Routine
Anyone else dedicate about 10 minutes for 'getting ready' in the morning? 3 for picking an outfit, 5 for makeup and 2 for eating breakfast, packing a lunch, grabbing a coffee, looking for the keys, double checking I locked the door and then finally leaving… if you're wondering how I do all of that in the 2 minutes allotted you should also know, I'm always late!
Okay, lets break down a look into 5 min. This might seem impossible when we've all been trained by beauty gurus on Youtube who add layer after layer, product after product but I'm here to tell you that if you are not on camera less is MORE!
Here are my tips on how to cut down time on your makeup routine.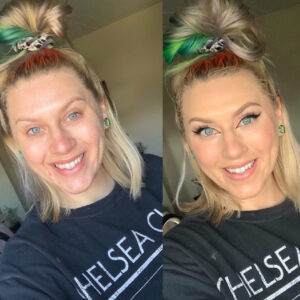 Base
Pick a foundation that is easy to blend and melts into your skin. A cream foundation is great for this! I love a buffing brush but for a more natural look I suggest using a damp sponge for application.
Blush & Bronzer
I love a sun-kissed, rosy cheek & contoured face but this can add a lot of time into your look so my advice is to pick a duo (even a trio if you're a highlight gal) that has them all together! This can be powders or creams. Yes I said creams! Cream blush?! Yes trust me they are great.
Brows
Skip the precise pencil or picky pomade . A tinted brow gel is natural and efficient for perking those brows up in just a few swipes! If you are blessed with full brows just grab a clear gel and if you need a little boost get one with fibers.
Eyes
Honestly, just mascara. Two coats if you want a thicker look and if you are a LASH LOVER but don't have time for a falsie application everyday check out my post about lash extensions HERE!
I always like to try out different mascaras so these multi-brand mascara kits are the best bang for my buck. If you must have eyeshadow, stick with nude colors that you can blend out with ease.
Lips
Pick a sheer nude color, close to your natural lip color. My advice is a tinted balm or moisturizer because you can get the best of both worlds!
My main tip for shrinking down your makeup routine is keeping all your items together in one palette. You can see that in almost every category I have included one common brand. You can build your own personalized palette for your 5 minute makeup routine HERE.
I hope this inspires you to speed up your makeup routine and spend a little more time enjoying your morning … or hitting that snooze button one more time! <3